Disclaimer: Apologies in advance if this post creates "auto envy". Please note that there will also be an excessive use of the phrase "my Tahoe"… It's just a little wishful thinking.😉 Hey, a girl can dream, right!? Besides, Christmas is right around the corner, so Hubby take notes…😉
It's no surprise to spot me motoring around the ATL in my 2015 Tahoe. This baby has been my "everyday / everywhere / every time" ride and I L O V E I T!!! Not only has it been super reliable (imagine chauffeuring 4 active kids, road trips, etc.), but it's also been loads of fun to drive over the years. So when I was recently given a 2021 Chevy Tahoe Premier to test drive, I thought "What better way to ring in the holiday than with a little Christmas adventuring around town!" And the All-New Chevy Tahoe was more than happy to assist with a little holiday help.
Ok, so I'm thinking hmmm, where can I take it? Maybe a road trip? Then I said to myself, "Self; just be yourself." Take it for a spin and chronicle all the fun. So I did just that… and from there it was literally love at first drive. The 2021 Chevy Tahoe Premier is absolutely gorgeous, very practical, and plenty of fun! There's just so much to love about it!
My Favorite Things
♫
Taking my Tahoe on Christmas adventures
Sips of hot chocolate and candy cane wishes
Sleigh bells and holiday movies that stream
These are a few of my favorite things
♫
My Tahoe (Hubby, take note) came equipped with a panoramic moonroof to let a little lots of sunlight in, heated AND ventilated leather seats to battle those cold Winter days and haute Atlanta nights, panoramic camera views and blind spot detection that makes even my driving look good, a power liftgate for hands-free access to your precious cargo (e.g. shopping bags), and Sirius XM satellite radio with Bose® sound to rock out to my favorite 80's tunes along the way. 😉 The 2021 Tahoe also gets excellent gas mileage (15 city/20 highway) which makes the wallet (and the budget) very happy. And with an onboard navigation system you can easily locate the nearest mall to blow some of that extra cash. 😉 The Tahoe also comes with a hands-free infotainment system featuring built-in 4G LTE Wi-Fi that connects to your wireless device w/ Apple CarPlay® & Android Auto™, so making and receiving calls (and even text messages) feels like you have a personal assistant along for the ride. So with all of these goodies at my fingertips, what else is there to do but take this baby on a holiday adventure cause Christmas aint gonna "Christmas" itself, amiright?!
Sleigh All Day
♫
Santa baby, just slip a Chevy under the tree
For me
Been an awful good girl
A '21 Tahoe too
Light blue
So hurry down the chimney tonight!
♫
Speaking of trees… One of my favorite family traditions is Christmas tree shopping. Each year we set out to find the perfect tree to chop, but not any ol' ride will cut it. (pun intended) You've gotta be sure your ride can accommodate everyone AND carry a 10' tree. No sweat! The 2021 Tahoe handled our tree trimming trip to Sleepy Hollow Farm like a pro! The spacious roof rack rail system was perfect to chauffer our holiday haul home. Saving space is super important and this baby has P L E N T Y! I mean the extra roomy cargo could hold enough presents to make even Santa a little jelly. LOL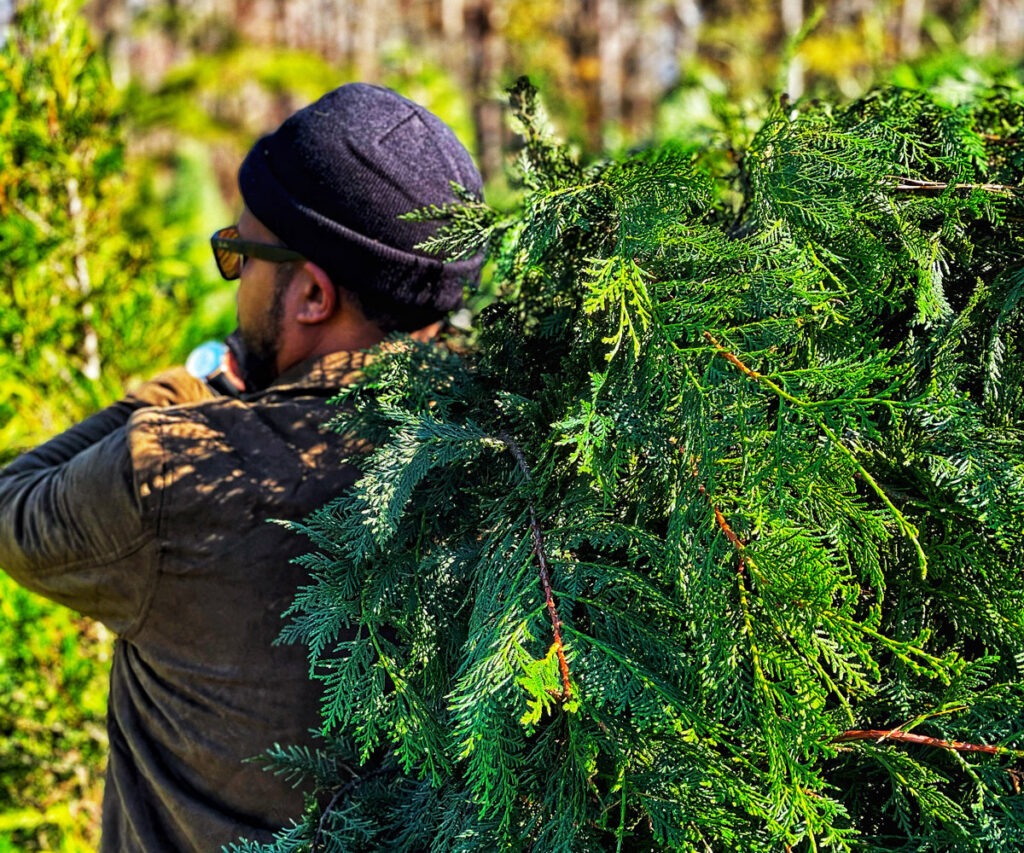 A Show Stopper On Wheels
Being a diva that's all about what's happening around town, I'm always attending events and everything in between. No matter when I go, arriving in style for me is everything —so needless to say, looking fab is a must. And what better way to show your sense of style than to pull up in a chic SUV like the 2021 Chevy Tahoe Premier. With its jeweled headlights, comfy leather interior, and premium touches throughout, this baby is definitely red carpet ready! My Tahoe accompanied me to several holiday-themed events like Christmas light shows, holiday pop-up spots and cute coffee shops. And although I was looking uber fab at these events, my Tahoe definitely stole the show. 😉
My Tahoe and I had a fabulous time! Here's to many more exciting roads to travel, and to all of the twists and turns along the way, because life would be no fun without them! You too can experience the All-New 2021 Chevy Tahoe Premier, but I must warn you in advance… It comes standard equipped with LUV! 😉
Disclaimer: Chevrolet USA provided me with an unforgettable experience in the 2021 Tahoe Premier, however all expression of total elation are my very own.