Picture this… You're cruising with the top down in a (little) candy red Corvette. The howl of the engine sends an exhilarating vrooom, vrooom into the air while envious eyes capture a glimpse of your flapping scarf as you take the wind on a wild ride.
Yea… that really happened. And It. Was. Everything! Recently I got a chance to test drive the 2019 Chevy Corvette Grand Sport, and it was one of the most unforgettable experiences of my life. So where do you take such an iconic sports car for a spin you ask? To Chattanooga, Tennessee of course!
If you don't know about charming Chattanooga, here's the rundown. This sweet little Tennessee town has been named "Best in the U.S." and one of "10 U.S. destinations you need to see in 2018" by Lonely Planet, so you know this place is worth a visit.
But how good, you ask? Well, luckily for you, I've got an entire itinerary for your visit to Chattanooga.
The fact that we were able to experience the town in the classic yet innovative (and absolutely head-turning) 2019 Chevy Corvette Grand Sport was an absolute treat. Not only did I feel like a rock star cruising around in a stylish ride, but it totally felt meant to be as I toured this historic yet progressive Appalachian mountain town.
With a world of outdoor adventure, restaurants, live events, art, and attractions, Chattanooga is a definite must visit. It offers a little bit of everything, so, needless to say, we did a little bit of everything. 🙂
The Seen-ery
Looking for a hotel as Instagram-ready as your ride? Hotel Moxy Chattanooga will check all your boxes with its trendy design, engaging atmosphere, and #goodvibes. The perfect place to interact and socialize, Hotel Moxy Chattanooga is one-of-a-kind, just like the Corvette Grand Sport! After the valet took our fabulous ride down to its resting spot, the fun went up a notch. If you're looking for the front desk at Hotel Moxy, look no further than the bar. Yep, you get checked-in and grab your room keys right at the bar y'all. AND you also get a delicious complimentary cocktail to kickoff your stay.
Their "it's 5 o'clock somewhere" attitude makes Hotel Moxy Chattanooga THE most happening stay in town.
I loved how the Moxy's atmosphere felt as fresh as the Corvette's 2019 design. It's sleek looks make it a definite head-turning attention grabber that enlivens the senses. And just like Hotel Moxy is a must-be-seen-in spot, you'll welcome all onlookers when cruising around town in the Vette. With its deep character lines and aerodynamic styling, there's no mistaking the 2019 Corvette Grand Sport for any other sports car on the road.
Legendary Meets Iconic
Riding in the Vette, though it's brand-new, still feels like putting my print on history. This iconic car is highly nostalgic for many, and that's what makes me love it so much. If you're like me in that way, then you definitely can't miss the Coker Tire Museum.
Filled with an impressive collection of hot rods, pickups, motorcycles, sports cars, and touring cars (there's even a couple of planes hanging from the ceiling), the Coker Tire Museum museum is a definite must-do when visiting Chattanooga. Coker Tire has been making history for 60+ years, and just like the Corvette, you really can't appreciate the nostalgia without seeing it up close for yourself. Oh, and while you're there be sure to check out Chevy's very first V-8 engine which is the same horsepower under the hood of the 2019 Corvette Grand Sport.
Rules Re-invented
Located in the heart of downtown, Chattanooga Whiskey Co's celebrated past precedes its reputation, much like the Corvette. This historic local landmark's Experimental Distillery was the first to craft whiskey in Chattanooga in over 100 years. Now, with over 100 different barrels maturing in the aging cellar, the Experimental Distillery is an exploration of the past, present and future through the taste of delicious bourbon.
Like CWC, the Vette Grand Sport with its unexpected performance, is truly an experience to behold. Driving this quintessential American sports car with the intoxicating growl of eight cylinders and 460 restless ponies eager to break the rules, is the same rebellious spirit that fueled Chattanooga Whiskey Co. to bring its craft whiskey to the masses.
When an iconic sports car meets an iconic establishment you can't help but sense a little nostalgia in the air. Stop by Chattanooga Whiskey Co and indulge in the history of a local icon. The hand-crafted bourbon here is truly an experience of its own and I recommend taking a guided tour of the facility—you'll see their production process and (of course) sample the bourbon afterward.
WOW Factor
With the 2019 Corvette Grand Sport, there's nothing like a true original. And that's what you get with Kenny's Southside Sandwiches. While your breakfast and lunch may arrive quickly at Kenny's, nothing is "quick" about the quality of ingredients you're biting into. Their menu wow's your tastebuds as you dive into innovative house-made meats and sides sourced from local Chatt ingredients.
The bites at Kenny's were just as mind-body melding as the performance of the Vette. With an impressive fuel efficiency of 27 mpg, and an aggressive V-8 with eight-speed automatic transmission, the Corvette Grand Sport can handle any excursion with ease.
In the Details
Come to STIR for the fresh oysters and craft cocktails, but stay for the artisanal ice! Each piece of ice is painstakingly hand-cut to match the cocktails. Much like each piece of ice at STIR is completely unique and designed to a T, no details were overlooked with the Grand Sport either. From the nine-speaker Bose sound system, to the touch controls, all-leather dashboard and 20-way adjustable leather seats, you'll find all the creature comforts you desire right at your fingertips.
And just like driving the Vette, an out-of-this-world experience awaits you at STIR. If you're in Chattanooga you should definitely pit-stop at STIR for artfully imagined sips and unforgettable bites.
Stand Out
Treat your tastebuds to one of Chattanooga's favorite food and drink spots. Serving stylish industrial vibes with a twist, Public House is a blending of a contemporary Southern kitchen and a classic downtown bar. The Social, the adjoining bar, undeniably lives up to their motto, "a good place to drink." The accessible wine list at Public House is great for any casual sipper or budding connoisseur, and the food is both comforting and inventive. It's one of the best dining experiences you can get in Chattanooga.
With mix and mingle vibes, artfully prepared food, fresh spirits, and live music, Public House is a standout spot in the city. And much like Public House, the 2019 Corvette Grand Sport conjures the same "standout" vibes amongst other supercars like Ferrari, McLaren, and Lamborghini, but at a fraction of the price.
Off the Beaten Path
Ohhh, this hidden gem will make you smile! Stumbling upon this delightful surprise is a lot like discovering the little details in the Vette.
Wildflower Tea Shop & Apothecary offers customers an enlightening and therapeutic visit that starts with a cup of tea. Owner Hillary Libby's passion and purpose with Wildflower is to turn up the tranquil and relaxing vibes and make people feel better.
With a mixture of herbal tea blends and organic ingredients, sips at Wildflower sends your senses on an exhilarating ride matched only by the feeling of a 3.7 second head start on 0-60 MPH in the Vette Grand Sport.
The infotainment system in the 2019 Grand Sport features an easy to use touchscreen with quick to respond to commands loaded with apps such as Apple CarPlay, Android Auto, and a 4G LTE mobile hotspot. Plus the Bose surround speakers can queue up your favorite tunes to vibe to while sipping your tea.
A True Original
Since I was cruising around in one of the most iconic American sports cars there are, it only felt right to rally-up at one of the most unique hotspots in town—and that place was American Draft. With 29 draft beers on tap representing American breweries from all over the U.S., visiting this innovative establishment was the perfect ending to our All-American adventures in Chattanooga.
Beer lovers will fall head over heels for this place! This pour-your-own beer hall is housed inside a historic train car at The Chattanooga Choo Choo Hotel. So, it's basically a beautiful combination of history meets modern. The Corvette Grand Sport represents that same nod to the past with a sports car that honors its historic roots while also embracing innovation. Impressive styling and distinct features flow from the rally-striped hood all the way to the aggressive tail lights.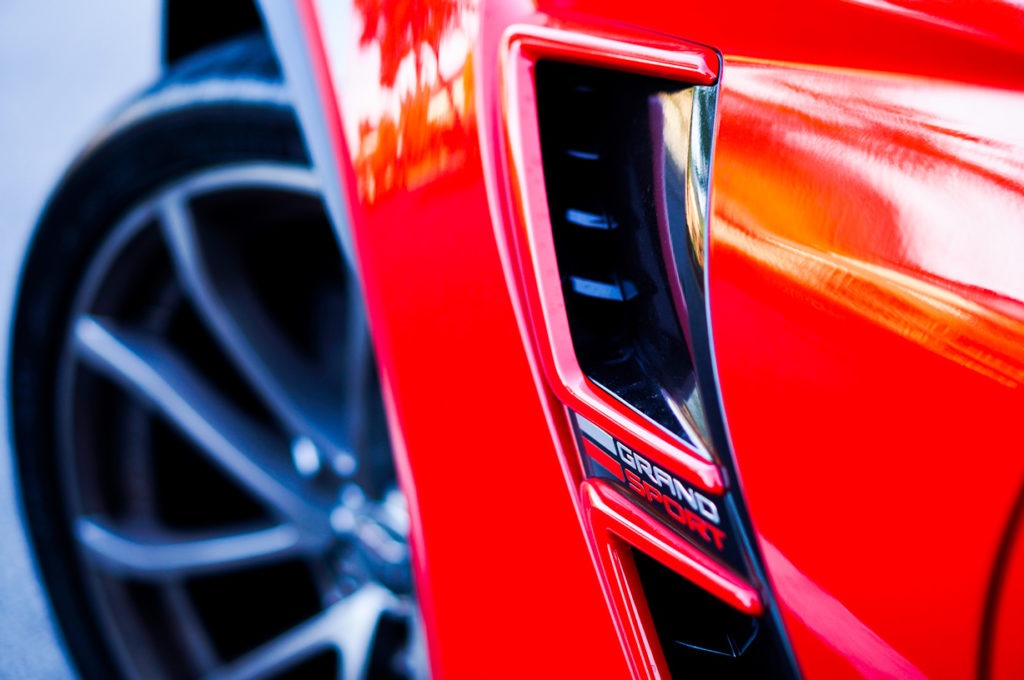 And just like Chattanooga, Tennessee is a truly unexpected experience, both drivers of the 2019 Chevrolet Corvette Grand Sport and onlookers alike will be completely blown away… Vroom Vroom!!!
Disclaimer: Chevrolet USA provided me with a fabulous vehicle to test drive, however all opinions are my own.