In a time when everyone is looking to balance the need for social distancing with the need to get out and experience something new, the perfect destination for your next getaway is only a short drive away.
Imagine breathtaking mountain views and cozy accommodations set against tranquil surroundings where your only worry is planning for a longer stay. If this sounds like a much needed getaway that you desperately deserve… Welcome to The Lodge at Antlers Ridge!
This private escape has everything you need to unwind, relax, and just vibe out! Nestled high in the hills of North Georgia situated on the gorgeous Amicalola Mountain, Antlers Ridge Lodge is the ideal vacation destination for anyone who likes to immerse themselves in the wonders of the great outdoors. Majestic views and open-air adventure are just a taste of what you can expect at Antlers Ridge. I mean I was smitten by the view alone, jus sayin. 🙂
Unwind, wine… Why not!
While staying at this serene mountain retreat, you can spend your days fishing on the crystal blue lakes or hiking along the trails that wind through the forest. If you prefer a more cosmopolitan experience, you can always sip wine at local wineries & vineyards or go shopping in the charming mountain towns in the region. I absolutely love antiques and boutiques so exploring cute little shops in town was definitely on my itinerary. Retail therapy is my fave way to unwind, btw… 😀
Boho-chic Meets the Mountains
It's impossible to feel bored at Antlers Ridge Lodge, because there are so many adventurous things to do in the area. However, the inside is so welcoming and relaxing, you also may never want to leave.
Inside this peaceful and luxurious retreat, you'll be greeted with stylish Boho-chic decor that instantly sends you into kickback mode. Soft, plush pillows and snuggle-worthy blankets set the mood for the perfect weekend wind-down. This private lodge features five bedrooms, three bathrooms and a full-size fully appointed kitchen, so you can truly make it your home away from home.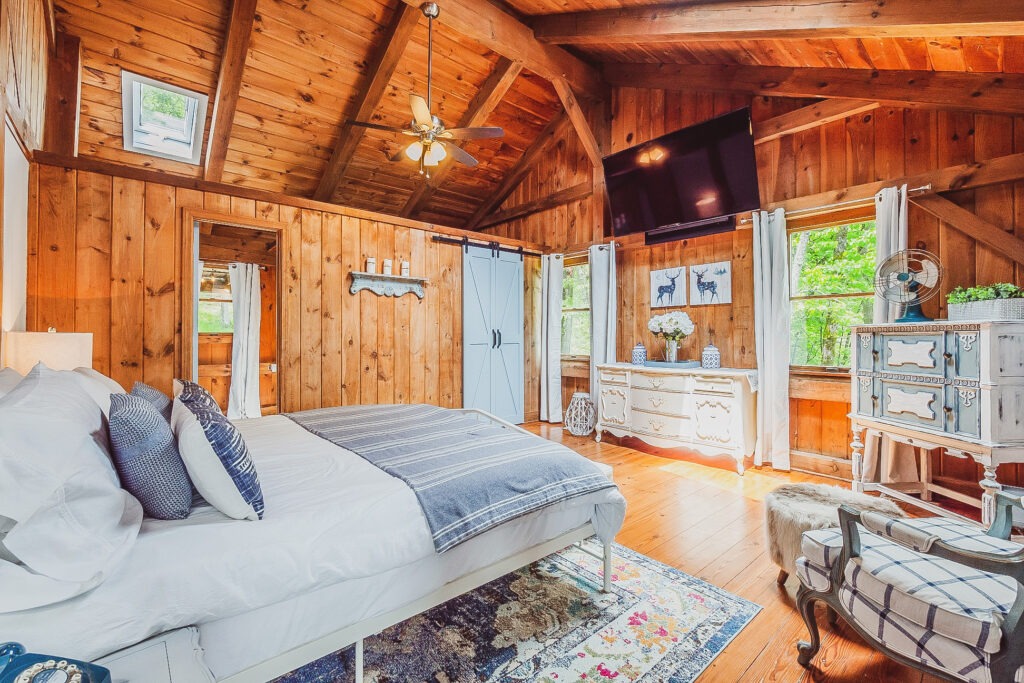 There's even a pizza oven so you can prepare your own pies AND enjoy a slice of heaven at the same time. 😉 My girls and I took full advantage and made our very own "pies in the sky". LOL
Entertaining guests is an afterthought at Antlers Ridge. With technology at your fingertips—6 big screen 4K Smart TVs throughout, Apple TV, Wi-fi, and Sonos Play surround, both you and your peeps can soothe out from a full day of fun. The game room features card & board games, wall Scrabble, poker & dart board + an arcade game (60 games), foosball and pool table making it the perfect spot for relaxing and having a few good laughs with your friends or family. A fully stocked coffee bar complete with Keurig machine is also waiting to kickstart your day of adventure.
Outside, watch the sun set in the hills while relaxing in the massive hot tub -or- lounge on the screened-in porch -or- take advantage of the vast outdoor terrace that wraps the lodge and just screams for a sit down with a few sips while soaking up the mountainside views. Imagine waking to the sun rising against the hillside. Gasp! I don't know about you but I prefer my morning coffee with a view.
Amenities at your service
Don't know where to begin? No worries! Antlers Ridge offers concierge services to take away the worry of planning your big adventure so you focus on making memories. I have to admit, the personalized pampering was much more than expected. Our Lodge Concierge created an intimate and unforgettable dining experience with Sourwood Executive Chef Richard Stack. Ok, so Chef Richard created a moment y'all! Four courses of succulent servings paired with a selection of regional wines by Fainting Goat. Dee-lish!!! Can you be in heaven AND on cloud 9 at the same time? Asking for myself. 😀 Chef also mentioned that all of the ingredients were sourced locally and organic to the region which made our meal even more special. Needless to say our 5-star dining experience was unforgettable, and lemme tell ya, the Scallop Crudo and fresh Watermelon Salad were by far the best I have e-v-e-r had!!! Yes, and more please! Bet you don't get this kind of experience below the trees. 😉
Right now, we all need a place to go where we can escape from the stress and chaos of our daily lives. If you are looking to truly get away, soak up lots of adventure, and break away from boring, then The Lodge at Antlers Ridge is calling your name.
To book your next adventure in the clouds visit www.antlersridgelodge.com. Oh, be sure to tell em Nikka Shae sent ya!
Disclaimer: The Lodge at Antlers Ridge provided me with an unforgettable experience in exchange for my opinion. However, all expression of total elation are my very own.